Friday, March 22, 2013
Rain, Go AWAY and Strange, But Good Waffles
I'm pretty sure I say this every week, but I really don't know where the last week went? Things are, of course, crazy, but good crazy. I'm learning to seize opportunities and focus on making small steps always in the positive direction. If something happens that I'm not exactly happy about, it's not worth dwelling on, so I just hold my head up high and move forward...which is actually how I learned to enjoy running! Like that transition..

The weather is supposed to be nasty this weekend (it's sleeting now)...YUCK! Tony and I are running in Tony's first official 5k for the SPCA. I'll tell you this, if it's going to be cold and raining, I'm gonna run like the wind to get that mess over with! ;) I mentioned before when I first started running that I really only wanted to participate in runs that I felt were a good cause. Honestly, I don't have a lot of extra money hanging around for all the expensive fun races, so if I'm spending the money, it's going to something meaningful to me. This race happens to be specifically for the location that we got Luke and Leia from! In fact, when I found the race, there was a collage of animals on it and the two orange kitties on the top left corner are my kitties! Seriously, how could we not run for them? Anyway, I'm really hoping the rain holds off...cold, I can get through, cold and rain, that is the polar opposite of ideal weather condition for any situation really. Just sayin'.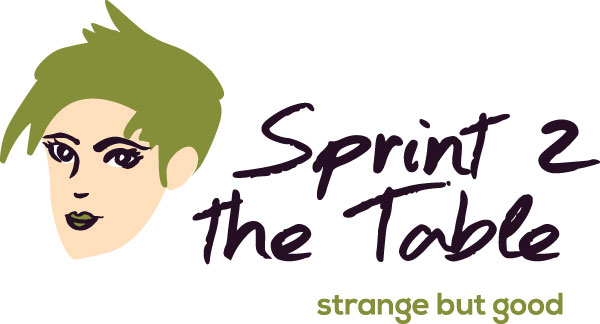 Now, let's talk food, shall we? My friend Laura at Sprint 2 Table does a #strangebutgood themed post on Fridays and I've been dying to share this one for a couple of weeks. Before I share though, let's talk about how much I love this challenge Laura has put out there. I think most people would think a majority of what I eat is strange and probably wouldn't really consider it good. That's ok with me, I eat for me, not anyone else. I love a challenge on flavors and textures or a new idea on using an ordinary food...like waffles. A while back, I was on a HUGE savory waffle kick. Pizza waffle, waffle sandwich, waffle burger...I think you get the point. What can I say, I love the crunchy stuff!

Anyway, I was making chicken and waffles or the boys...


(different recipe for another day)




which started me thinking about what I could do with waffles...


These waffles are savory and based on my
flatbread recipe
. They are crispy on the outside and soft on the inside. I was craving a cabbage omelet (I know, like everyone else does). Have you ever tried that before? I simply put the egg in the pan and then put shredded cabbage in the egg, cover the pan, cook, flip, cook and serve. The cabbage gets all crispy steamed and sweet inside the fluffy egg!



I wanted something saucy here too, so I decided to add a soft fried egg to the top (besides, I needed my Bs!) with a little chili paste for some kick and coconut aminos for tang (soy sauce for those that can have it)! YUM!




I love how well the waffles held up to the saucy eggs. This was definitely a great combinations of flavors and textures!




Savory Waffles

(Makes a little more than 2)




1/2 cup chickpea flour

1 1/2 tsp baking powder

1 TBSP apple cider vinegar

pinch of salt

1/4 cup egg whites

1/4 cup + 2 TSP water




Mix your dry ingredients together. Add your wet ingredients and mix well. Cook according to your machine's directions.


So, savory waffles...yay or nay? Running in the freezing rain, yay or nay?


Have a great weekend friends!

Labels: about me, breads, gluten free, main course, quick breads, vegetables
posted by Sarena Shasteen - The Non-Dairy Queen @ 7:55 AM

Tuesday, March 12, 2013
A Day In My Life...
Hey, hey...it's TUESDAY! Yeah, I just bypassed stupid Monday. Mine was all about putting out fires, which is no fun at all. You know that moment when you look at your bank account and realize that someone has stolen your card number and is also smart enough to know exactly how much to charge to keep it from being a felony and done it twice...yeah, that's a fun moment. UGH! Anyway, I took care of that and all is hopefully going to be fixed without too much hassle (I say too much since I've already invested too many hours into the ordeal, but my part is now done).

Anyway, I don't want to dwell on the bad today. I'm actually in a good mood and feeling like things are moving in the right direction! Tuesdays are always a crazy one for me. I'm normally running back and forth from the gym, back and forth from the schools and well...trying to get life done in between. I thought it would be fun to look at a day in the life...my life. Anna did this the other day and I love reading about how others make it work so I thought I would share. I'm gonna pick last Thursday since it was one of my usual crazy days.

4:30am wake up call

4:45am quit hitting the snooze and actually get out of bed

5:15am train a client

6:15am get back home and push the coffee button as fast as possible (mama needs her juice to get going!)

6:20am get Jay's lunch made





6:45am tell Jay he's making me nervous and he needs to get done fixing his hair! Get coffee ready and breakfast on the go for Jay (either a microwave peanut butter protein muffin, French toast in a mug, peanut butter toast or scrambled eggs)


Protein packed peanut butter muffin!
French toast in a mug!




6:50am (sometimes 6:55am on a bad hair day for Jay) leave to take Jay to school and enjoy this view


No joke, taking Jay to school is a highlight of my day. We get to talk and watch this view as I enjoy my coffee and he eats breakfast. Nothing short of amazing!




7:10am hopefully heading back home

7:30am get home and start round two of getting the youngest one out the door on time

7:32am get 2nd cup of mama juice!

7:50am prepare protein oats (who am I kidding, I try to want eggs in the morning, but that never happens - unless it's an off day and it just makes the day feel weird)




Oatmeal with vanilla protein powder, cinnamon, chia, stevia and ice! Yeah, I put the ice on it to cool it off a bit and give it a little extra moister for the protein powder...dual purpose ice there!


8:05am eat oats! I check email, read blogs and generally prepare for my day here.

8:30am make Max's lunch and breakfast...same options as for Jay

8:45am tell Max to stop with the hair and pick up the wet towels (this happens everyday)

9:00am take Max to school

9:15am I workout!!! (side note: I normally train clients early and/or workout at this time - so, if I workout in the early morning then I train clients at this time.)

10:15am go home to shower

10:30am snack time (I'm like a 2 year old, I need my snacks)







Roasted eggplant with roasted peppers and nooch!


10:45am check email, respond to email

11:00am take a shower!!! Dang is it ever needed at that time!

11:45am plan client workouts, catch up on email and blog a little

12:30pm EAT! Lunchtime! Generally I work while I eat.


This is your usual day in the life lunch of leftovers...salad with romaine,

lentil burgers

, eggs, nooch and salsa with a side of flatbread!


1:00pm get my afternoon snack (I'm telling you I'm like a 2 year old) and my dinner ready since I work the desk at the gym Tuesday and Thursday nights


Snack of roasted kabocha squash with peanut butter sauce and chocolate sauce...nothing short of amazing!



Flatbread

sandwich loaded with roasted eggplant, roasted asparagus, fresh tomato, nutritional yeast and mustard! YUM!


2:00pm go get Jay from school. This takes a good 50 minutes now and it's incredibly obnoxious that the school has not found a replacement for the cop.

3:00pm work at the gym

4:00pm Tony gets Max - just so no one thinks I leave him behind ;)

7:00pm done with desk job, train a client

7:45pm train a client

8:30pm go home

8:45 eat a snack!!! I told you...I'm 2! This is my relaxing time. Tony and I normally watch tv, a movie or read. I try to make it to 9:30pm...


I love the blueberry protein cake with coconut cream!
This is a roasted kabocha snack with

protein flatbread

or

microwave cake

layered with vanilla protein powder and vanilla almond milk...so good! Yes, I am fully aware of the kabocha addiction. It's been 3 days since my last kabocha...I need to get to the Asian market soon!




9:30pm-10:00pm pass out!

This is just one day. Other days I develop recipes for clients and work with other clients for training and nutrition. I wish I didn't have to sleep...

Tell me, what is your day like. Any favorite fast treats or meals you want to share? I need ideas for quick throw together eats!

Happy Tuesday friends!



Labels: about me, breads, gluten free, main course, quick breads, vegetables
posted by Sarena Shasteen - The Non-Dairy Queen @ 5:00 AM

Monday, March 4, 2013
Miles and Donuts...
What a strange weekend. It was a good weekend, just weird. Probably because it just wasn't as planned. It was just me, the boys and the cats this weekend. I love hanging with my boys. They are so easy now, so it's like hanging with friends all weekend. Tony was at a convention in Seattle. I was supposed to be with him, but with circumstances not in our control, those plans were changed and we went our separate ways this time. I was supposed to meet this amazing lady, hang out with our close friends that moved to Portland a while back and get a tour of Bob's Red Mill! Ok, tantrum over...

I haven't talked about our half marathon training in awhile. After our 7 miler, things got a little on the crazy side here with Tony starting a new project and having to get ready for this trip. He also started suffering some pain from his IT band. That darn thing is temperamental (the band and sometimes Tony. ;) He have been working on massaging it, giving it a little rest and he's also getting a compression band (thanks Jolene for that info) for him to run with. So, he's been taking it easy and I've been running 3-4 miles at a time when I can fit it in. I've added a few more clients to the rotation and that seems to have thrown my schedule completely out of whack.

I had plans for an 8 mile run on Friday since I was going to have some free time, but that changed when I had a client want to change days last minute. No worries, after hearing my friend Heather had a half marathon on Sunday, I decided to sherpa run with her since I was running solo and the idea of running with a buddy always sounds better to me. My friend Heather knocked it out of the park! Congrats lady, I'm so proud of you! Me, I got in my 8 miles knowing that I was "running with a friend"! This was my first ever 8 mile run! I always get excited about running, but the number 8 seemed a little on the scary side for me this time. The run was planned on the treadmill. I know, some people dread that, however, I've come to be good friends with the treadmill. I also picked out a movie on Netflix, so I knew I would be entertained. I grabbed my water, pulled up my compression socks, laced up my trusty Mizunos and I was off. I was really happy with my time and the whole run felt great! No hip tightness at all! In fact, when I was done...I wanted more. I know, crazy. I NEVER thought I would be that girl! I'm trying to be smart with my training though. I am one that will keep going if I can and I know that the training plan is there for a reason and my body really needs the steady plan. I do not want to get injured! So, I was good. I enjoyed another 3/4 of a mile walk and I was of to stretch. I took care to do that well too! I stretched for a good 30 minutes. It actually felt great! I felt incredible the rest of the day too and continued to move to keep blood pumping. Today, I'm a seriously happy girl...I'm almost to double digits! Now I need my running buddy back and things will really start moving us towards that half marathon!

Since I was solo on Sunday morning and the boys were sleeping in, I decided to make them some donuts to wake up to. I'm sure there were more things for me to do, but I really just wanted that peaceful time in the kitchen. The boys were happy I chose to do that too! Max gave me the ultimate compliment by telling me these taste like the cake donuts that you dip in coffee at Dunkin' Donuts. That made me one happy girl.


I based the recipe on these
nutmeg muffins
. The donuts are soft and cakey on the inside while being crisp on the outside. They are the right amount of sweetness without added glaze (as stated by the boys) and they have a hint of nutmeg...YUM!




Baked Gluten Free/Dairy Free Cake Donuts
(makes 12 donuts)

1/2 cup sugar
1/4 cup NuNaturals Tagatose
1 dropper NuNaturals vanilla stevia or 2 TBSP sugar
1/2 cup Smart Balance Light

3/4 cup gluten free AP flour (I used Bob's Red Mill)
3/4 cup sweet rice flour (I used Bob's Red Mill)
1 1/2 tsp baking powder
1/2 tsp freshly grated nutmeg
1/2 tsp xanthan gum
1/16 tsp salt
2 eggs
3/4 cup unsweetened vanilla almond milk
1 TBSP apple cider vinegar

Preheat the oven to 350 degrees. Spray oil into donut pan.

In a mixing bowl, blend the sugar, tagatose, stevia and smart balance light until mixed well and fluffy. Combine the flours through salt together in a bowl. Add the egg to the butter mixture and mix well. Next add the dry ingredients and mix until just starting to blend. Now, slowly pour the milk into the sugar mixture, along with the apple cider vinegar and mix until completely combined. Evenly distribute the batter into the donut pan. Bake 15-20 minutes or until a toothpick inserted in the thickest part comes out clean. Allow to cool 5 minutes in pan and then remove.

I'm sharing these on Slightly Indulgent Tuesday and Allergy Free Wednesday.





Labels: about me, breads, breakfast, cakes, gluten free, main course, muffins, quick bread
posted by Sarena Shasteen - The Non-Dairy Queen @ 5:30 AM

Name:
Sarena Shasteen - The Non-Dairy Queen
Home: Atlanta, GA, United States
About Me: Lactose Challenged
See my complete profile
Previous Post
Archives
Links
Blogs I Like