Monday, May 13, 2013
Blends!

This week, I'm seriously excited about Monday rearing it's head. This week...I'm going to Blend Retreat! So, yeah...you could say I'm feeling pretty darn Marlevous In My Monday!


I'm excited for this trip to Blend for a couple of reasons. One, because I get to see some amazing friends and meet some new ones. Two, because I have the honor of representing
Bob's Red Mill
at the event! You all know how much I love Bob's Products, so having the opportunity to share them with others, well, I'm beyond excited about that!
I have to say, I've been asked a lot about why I blog. Hands down, the friendships I've made blogging have been life changing for me. There are some of the most incredible people out there that I would have never met if I had not started blogging. I am thankful for them everyday. I look forward to reading about these people's lives and sharing experiences with them every day (even if some are only virtually)! You share the good, the bad, the joy, the heartache, the hard work, the pay off...I owe my blends a huge thank you for always being there for me! I look forward to the day I can meet all of you!
So, yeah...I'm feeling especially marvelous this Monday! I hope you all have an incredible week!
Have you met any blends face to face? Have people ever questioned why you blog?
Labels: about me
posted by Sarena Shasteen - The Non-Dairy Queen @ 5:30 AM

Wednesday, May 1, 2013
Inspiration Versus Motivation...
I share my thoughts on this subject over on Heather's site at Where's The Beach. She was so kind to invite me to do a guest post while she is in California enjoying some girl time! I feel honored to get the opportunity to share with her readers.

We could all use a little inspiration and motivation to get us going...

Happy Hump Day!
posted by Sarena Shasteen - The Non-Dairy Queen @ 9:39 AM

Monday, April 29, 2013
Eats and Treats...
Well, it's here...Monday! I had an incredible weekend so I'm going to move my mood right into the amazing Ms. Katie's Marvelous In My Monday!


I needed a recharge this weekend and that's exactly what happened. Admittedly, Tony and I had ants in our pants Saturday morning and needed to go out for a quick run even though we had a long run scheduled for Sunday. We live close to the park, so we ran to the park, around it and back home for a total of 2.5 miles. Just what we needed. Then, I did some cleaning around the house, while Tony cut the grass in preparation for friends to come over. We did a big Tex Mex meal with Max making guacamole...
I LOVE that he makes this all on his own. Seriously, the recipe is in his head and he does the whole thing start to finish!
I also made my gluten free angel food cake with
seven minute icing
. That icing is a weakness...
So, when we got up on Sunday morning, Tony and I were greeted with this lovely weather...rain (lots and lots of rain!!!)! I don't mind running in a drizzle, but all out rain, that is not fun. Oh, that reminds me, I never shared our 5k experience with you. I am so behind...let's just say running in the pouring rain in ponchos is less than ideal.
To the treadmill we headed. We had 6 miles on our out loud plan, with 9 on our mental plan. ;) We are noncommittal like that. This run was brutal! With all the moisture in the air, even being inside, it felt like I was breathing under water. I played it smart though and just walked when I need to catch my breath and get some water, then pushed through to 10 miles! Yeah, I'm still riding that double digit high! It was our first time in the double digits! I was impressed that I had a slight dry spot on the only peace of clothing that wasn't touching my body at the top of my shirt. I was drenched! Fuel was needed pretty much immediately! A massive grilled vegetable salad with lentils and nutritional yeast totally hit the spot! Although, really, when does it not for me...
Dinner came in the form of one of my favorite dishes that I don't have enough. I really wanted to share this on
Heather's Meatless Mondays from A-Z
this week, so I was happy to get the push to make it again!
This week is cabbage week. I LOVE cabbage just about any way you prepare it. This dish is loaded with good stuff thanks to my favorite spice...turmeric! I am a huge believer in the healing qualities of the food we eat, so I like to incorporate healthy spices in our meals. Turmeric and cabbage are both great for inflammation (hello running joints) and digestion (we always need help in this department). The boys love this with roasted pork or chicken and I love it with an over easy egg on top.



Turmeric Roasted Vegetables




1 small head of cabbage (1 1/2 - 2 lbs.), chopped into large rustic pieces
5 large carrots, thinly sliced on a diagonal
1 red bell pepper, chopped into large pieces
1 cup water
3 TBSP gluten free all purpose flour ( I used Bob's Red Mill)
2 tsp vegetable base
1 tsp turmeric

Preheat the oven to 350 degrees. I recommend using a glass dish. The color will stain other dishes.

Put the chopped vegetables in a 13x9 baking dish. Put the water, flour, vegetable base and turmeric in a measuring cup and stir well until there are no lumps. Pour the mixture over the vegetables and bake for 30 minutes. Stir the vegetables, bake for another 30 minutes, stir and bake for another 20-30 minutes or until the carrots are done.

Anybody else still riding a high from a great weekend? I hope you all have an amazing week!

I will be sharing this on Slightly Indulgent Tuesday and Allergy Free Wednesday.


Labels: beans, cakes, gluten free, main course, side dishes, vegetables
posted by Sarena Shasteen - The Non-Dairy Queen @ 8:31 AM

Monday, April 15, 2013
Gluten Free Muesli Winner!
The winner of the Bob's Red Mill Muesli Giveaway is Rachel from Grateful Girl Goes Gluten Free! Email me your address so I can pass it on! Congratulations!


posted by Sarena Shasteen - The Non-Dairy Queen @ 3:34 PM

Blueberry Baked Yogurt
Before I get too far into this, don't forget to enter the giveaway for Bob's Red Mill Gluten Free Muesli! I will pick a winner through random.org at noon EST!

Also, if you would be so kind as to vote for me, I would really appreciate it! The voting ends April 22nd.

I have to say, I'm feeling pretty amazing this morning! I would even say I'm a little bit...


The ever so sweet
Katie highlights Monday
with a positive spin and I love it! I am coming off of a great week with my guys. We did some fun stuff around the house for Spring Break since Tony and I had to work.
A little park time and pizza out on the patio of one of our favorite parks...
Nothing feels better than fresh and and watching sunsets with your loved ones.
We also enjoyed the beautiful weather out on Saturday with a little competitive game of mini golf and some ice cream for the guys. We couldn't go away on a trip, but we did a few extra fun things and the boys had plenty of time for rest and relaxation. Really, you couldn't ask for more...well, a trip to the beach would be nice, but that's for another time. I hope!
I'm also feeling a little
Marvelous In My Monday
because I finally got my butt in gear to participate in Heather's
Meatless Mondays From A-Z
. This is
round 2 for MMAZ
! She's started something different this time with everyone preparing an original recipe one week and then cooking from someone else's recipe the next week. I LOVE this! I'm a horrible repeat food offender and this definitely got me out of that cycle. This week is blueberries...which I LOVE! I had to jump in and give this a go!
I had a blast thinking about food again. I've been focused so much on fitness and workouts for my clients that I've stepped out of doing too much experimenting recently. I've got a good amount of recipes already worked out so developing menus for clients is easy for me based on my tried and true recipes. Making new foods for myself, well not so easy. So, I made the time for me!
I love blueberries. I love them frozen, fresh, baked and raw. I wanted to do something a little different this time though. I've really been craving textures these days. Does anyone else do that? I wanted something creamy and decadent. So, I came up with this little dish...
Blueberry Baked Yogurt Custard
(serves 2)
1 cup frozen or fresh blueberries
2 TBSP water
1 TBSP whole chia seeds
Microwave the blueberries and water for 1 minute. Stir in the chia seeds and stevia. Allow to sit 1 hour or overnight in the the fridge to thicken.
1/2 - 1 scoop vanilla protein powder** (I used
Plant Fusion
)
In a mixing bowl, combine the yogurt, protein powder and stevia drops. Whisk until fully combined. The mixture will be thick.
In two ramekins, evenly distribute the blueberry mixture on the bottom. Next, evenly distribute the yogurt mixture over the top. Smooth out. Place in a preheated oven at 350 degrees for 25-30 minutes, until slightly browned on top. Serve warm for a warm custard or refrigerate and serve cold for more of a cheesecake texture.
**The more protein powder you use, the more solid your custard will be when cooled.
Who else is a repeat food offender? It's not out of laziness for me either. I tend to just go for the easy fixes that I don't have to think about. Breakfast is always protein loaded oats for me and salad for lunch...dinner, well, that really depends on time.
Have a great Monday!
Labels: breakfast, gluten free, ice cream/pudding, product reviews
posted by Sarena Shasteen - The Non-Dairy Queen @ 8:40 AM

Monday, April 8, 2013
Gluten Free Muesli Giveaway and Peach Breakfast Calzone
I think we are all aware by now that I love Bob's Red Mill products. So, when I got the opportunity to develop a recipe for their Gluten Free Muesli recipe contest, I had to jump on it! I love the challenge of developing a recipe and I really love finding new incredible gluten free products. This one definitely does not disappoint! Also, you all get the opportunity to win some of your own! Exciting, right!

Confession, I've been on a HUGE calzone/stuffed bread kick these days. If you follow me on instagram, you, no doubt, already know this. So, when I was offered the chance to develop a recipe using Bob's Red Mill's Gluten Free Muesli, I knew exactly what I wanted to make...Peach Breakfast Calzone (I'm a Georgia girl for goodness sake)!





Bob's Red Mill Gluten Free Muesli is beautiful. Huge chunks of coconut, brown rice crisps, whole grain oats, seeds, nuts and dried fruits. What's not to love?

I thought about how I could incorporate all of this goodness in a breakfast I knew the kids love. I really wanted to do things differently though (meaning not a cookie or bar). I ended up using it two ways...ground up and whole. The nutty flavor from all the nuts and seeds, along with the whole grain taste from the oats and brown rice crisps combined with the sweetness from the dried fruit perfectly complemented the peachy fruit filled calzone. This is incredibly easy to make and would be a perfect dish for a Sunday Brunch! You can even prepare the fruit and flours the day before so all you have to do is assemble it on the morning of your brunch!



Peach Breakfast Calzone
(gluten free and dairy free)

1 cup Bob's Red Mill Brown Rice Flour
1 cup Bob's Red Mill Gluten Free All Purpose Flour
1 cup Bob's Red Mill Gluten Free Muesli, ground in a food processor (measure then grind)
4 tsp baking powder
1 tsp xanthan gum
4 TBSP Coconut Oil or your choice of dairy free butter, cold and cut into pieces
3/4 cup egg whites
1/2 cup almond milk (I used unsweetened vanilla, but sweetened would be good too)
2 TBSP apple cider vinegar

Peach Filling
10 oz fresh peach, 2 medium, large diced
1/2 cup water (more as needed)
2 TBSP sugar
1/4 cup Bob's Red Mill Gluten Free Muesli
15 drops vanilla stevia

Topping
1 TBSP butter substitute of your choice, melted
1 TBSP sugar

Glaze
1/2 cup powder sugar
1 TBSP butter substitute of your choice, melted
1-2 tsp almond milk

In a large bowl, mix the brown rice flour, all purpose flour, ground muelsi, baking powder and xanthan gum together until fully combined. Next cut the butter into the flour mixture with a fork to evenly distribute throughout the mixture. Then add the egg whites, almond milk and apple cider vinegar to the flour mixture. Stir to combine. The dough will come together and form a ball. Allow the dough to rest in the fridge while you work on the peach filling.

In a sauce pan, combine the peaches, water and sugar. Cook on medium heat until the peaches are tender, but still hold their shape. Add a little water if needed while cooking. When the peaches are cooked, add the 1/4 cup of whole muesli to them and the stevia drops, stir well to soak up any liquid. You want all the liquid to be soaked up with the muesli. It should look like this...


Line a baking sheet with parchment paper. Place half of your dough on the parchment. Flatten as shown above using damp hands. The dough should be easy to handle with damp hands. It should not stick to your fingers (if it does, you should add more brown rice flour, a tablespoon at a time). Next place the fruit mixture on the dough and evenly distribute it around. Then flatten the rest of the dough out in the bowl and flip it out to lay on top of the fruit. Using damp fingers, flatten the top layer of dough out and seal up the edges. Make sure all of the fruit is covered. Using a pastry brush, brush the melted butter evenly over the calzone and sprinkle with the tablespoon of sugar.
Bake at 400 degrees for 25 to 30 minutes or until golden brown. Allow to cool slightly before you glaze it.
Prepare glaze by melting the butter, add the powder sugar and 1 tsp almond milk. Mix well. If you need more liquid to make it easy to drizzle, add another tsp of almond milk. It should be a little thicker though, so only add if you really need it.



Giveaway!

Bob's Red Mill will provide a case of muesli for a single winner! Trust me, you want in on this! All you have to do to enter is leave me a comment here telling me if you've ever had muesli before and if so, what you've done with it.

You will receive additional entries for doing each of the following (that's 7 entries total):
Enter Bob's Red Mill Muesli Instagram/Pinterest contest (one entry only)
Like Bob's Red Mill Facebook Page
Follow Bob's Red Mill Twitter Page
Follow Bob's Red Mill on Instagram
Follow Bob's Red Mill on Pinterest
Vote for my recipe!!! I will let you know when voting begins (April 9th and goes to the 22nd), so make sure you come back and let me know you voted for another entry!

I will pick a winner through Random.org on Monday, April 15 at noon. Good luck!

I will be sharing this on Slightly Indulgent Tuesday and Allergy Free Wednesday!



Labels: breads, breakfast, gluten free, holidays, main course, pie, product reviews, quick bread, side dishes
posted by Sarena Shasteen - The Non-Dairy Queen @ 5:00 AM

Friday, April 5, 2013
Happy Friday!
Another warm-up sketch from Tony today is from My Big Fat Greek Wedding. I had to share this one too! One of my all time favorite scenes!


I will be back next week with recipes and a giveaway! Have a great weekend and hopefully you all get some sunshine to enjoy!
posted by Sarena Shasteen - The Non-Dairy Queen @ 9:59 AM

Wednesday, April 3, 2013
Almost Wordless Wednesday
Tony is doing warm up sketches from movie scenes and this one is from today...


This is from
Zombieland
and it's one of my favorite movies to watch with my guys! Happy Wednesday!
Labels: about me
posted by Sarena Shasteen - The Non-Dairy Queen @ 9:50 AM

Friday, March 22, 2013
Rain, Go AWAY and Strange, But Good Waffles
I'm pretty sure I say this every week, but I really don't know where the last week went? Things are, of course, crazy, but good crazy. I'm learning to seize opportunities and focus on making small steps always in the positive direction. If something happens that I'm not exactly happy about, it's not worth dwelling on, so I just hold my head up high and move forward...which is actually how I learned to enjoy running! Like that transition..

The weather is supposed to be nasty this weekend (it's sleeting now)...YUCK! Tony and I are running in Tony's first official 5k for the SPCA. I'll tell you this, if it's going to be cold and raining, I'm gonna run like the wind to get that mess over with! ;) I mentioned before when I first started running that I really only wanted to participate in runs that I felt were a good cause. Honestly, I don't have a lot of extra money hanging around for all the expensive fun races, so if I'm spending the money, it's going to something meaningful to me. This race happens to be specifically for the location that we got Luke and Leia from! In fact, when I found the race, there was a collage of animals on it and the two orange kitties on the top left corner are my kitties! Seriously, how could we not run for them? Anyway, I'm really hoping the rain holds off...cold, I can get through, cold and rain, that is the polar opposite of ideal weather condition for any situation really. Just sayin'.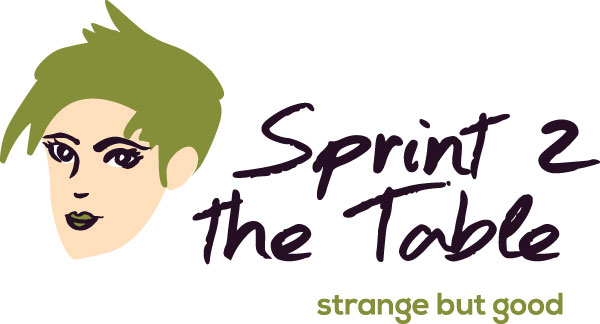 Now, let's talk food, shall we? My friend Laura at Sprint 2 Table does a #strangebutgood themed post on Fridays and I've been dying to share this one for a couple of weeks. Before I share though, let's talk about how much I love this challenge Laura has put out there. I think most people would think a majority of what I eat is strange and probably wouldn't really consider it good. That's ok with me, I eat for me, not anyone else. I love a challenge on flavors and textures or a new idea on using an ordinary food...like waffles. A while back, I was on a HUGE savory waffle kick. Pizza waffle, waffle sandwich, waffle burger...I think you get the point. What can I say, I love the crunchy stuff!

Anyway, I was making chicken and waffles or the boys...


(different recipe for another day)




which started me thinking about what I could do with waffles...


These waffles are savory and based on my
flatbread recipe
. They are crispy on the outside and soft on the inside. I was craving a cabbage omelet (I know, like everyone else does). Have you ever tried that before? I simply put the egg in the pan and then put shredded cabbage in the egg, cover the pan, cook, flip, cook and serve. The cabbage gets all crispy steamed and sweet inside the fluffy egg!



I wanted something saucy here too, so I decided to add a soft fried egg to the top (besides, I needed my Bs!) with a little chili paste for some kick and coconut aminos for tang (soy sauce for those that can have it)! YUM!




I love how well the waffles held up to the saucy eggs. This was definitely a great combinations of flavors and textures!




Savory Waffles

(Makes a little more than 2)




1/2 cup chickpea flour

1 1/2 tsp baking powder

1 TBSP apple cider vinegar

pinch of salt

1/4 cup egg whites

1/4 cup + 2 TSP water




Mix your dry ingredients together. Add your wet ingredients and mix well. Cook according to your machine's directions.


So, savory waffles...yay or nay? Running in the freezing rain, yay or nay?


Have a great weekend friends!

Labels: about me, breads, gluten free, main course, quick breads, vegetables
posted by Sarena Shasteen - The Non-Dairy Queen @ 7:55 AM

Tuesday, March 12, 2013
A Day In My Life...
Hey, hey...it's TUESDAY! Yeah, I just bypassed stupid Monday. Mine was all about putting out fires, which is no fun at all. You know that moment when you look at your bank account and realize that someone has stolen your card number and is also smart enough to know exactly how much to charge to keep it from being a felony and done it twice...yeah, that's a fun moment. UGH! Anyway, I took care of that and all is hopefully going to be fixed without too much hassle (I say too much since I've already invested too many hours into the ordeal, but my part is now done).

Anyway, I don't want to dwell on the bad today. I'm actually in a good mood and feeling like things are moving in the right direction! Tuesdays are always a crazy one for me. I'm normally running back and forth from the gym, back and forth from the schools and well...trying to get life done in between. I thought it would be fun to look at a day in the life...my life. Anna did this the other day and I love reading about how others make it work so I thought I would share. I'm gonna pick last Thursday since it was one of my usual crazy days.

4:30am wake up call

4:45am quit hitting the snooze and actually get out of bed

5:15am train a client

6:15am get back home and push the coffee button as fast as possible (mama needs her juice to get going!)

6:20am get Jay's lunch made





6:45am tell Jay he's making me nervous and he needs to get done fixing his hair! Get coffee ready and breakfast on the go for Jay (either a microwave peanut butter protein muffin, French toast in a mug, peanut butter toast or scrambled eggs)


Protein packed peanut butter muffin!
French toast in a mug!




6:50am (sometimes 6:55am on a bad hair day for Jay) leave to take Jay to school and enjoy this view


No joke, taking Jay to school is a highlight of my day. We get to talk and watch this view as I enjoy my coffee and he eats breakfast. Nothing short of amazing!




7:10am hopefully heading back home

7:30am get home and start round two of getting the youngest one out the door on time

7:32am get 2nd cup of mama juice!

7:50am prepare protein oats (who am I kidding, I try to want eggs in the morning, but that never happens - unless it's an off day and it just makes the day feel weird)




Oatmeal with vanilla protein powder, cinnamon, chia, stevia and ice! Yeah, I put the ice on it to cool it off a bit and give it a little extra moister for the protein powder...dual purpose ice there!


8:05am eat oats! I check email, read blogs and generally prepare for my day here.

8:30am make Max's lunch and breakfast...same options as for Jay

8:45am tell Max to stop with the hair and pick up the wet towels (this happens everyday)

9:00am take Max to school

9:15am I workout!!! (side note: I normally train clients early and/or workout at this time - so, if I workout in the early morning then I train clients at this time.)

10:15am go home to shower

10:30am snack time (I'm like a 2 year old, I need my snacks)







Roasted eggplant with roasted peppers and nooch!


10:45am check email, respond to email

11:00am take a shower!!! Dang is it ever needed at that time!

11:45am plan client workouts, catch up on email and blog a little

12:30pm EAT! Lunchtime! Generally I work while I eat.


This is your usual day in the life lunch of leftovers...salad with romaine,

lentil burgers

, eggs, nooch and salsa with a side of flatbread!


1:00pm get my afternoon snack (I'm telling you I'm like a 2 year old) and my dinner ready since I work the desk at the gym Tuesday and Thursday nights


Snack of roasted kabocha squash with peanut butter sauce and chocolate sauce...nothing short of amazing!



Flatbread

sandwich loaded with roasted eggplant, roasted asparagus, fresh tomato, nutritional yeast and mustard! YUM!


2:00pm go get Jay from school. This takes a good 50 minutes now and it's incredibly obnoxious that the school has not found a replacement for the cop.

3:00pm work at the gym

4:00pm Tony gets Max - just so no one thinks I leave him behind ;)

7:00pm done with desk job, train a client

7:45pm train a client

8:30pm go home

8:45 eat a snack!!! I told you...I'm 2! This is my relaxing time. Tony and I normally watch tv, a movie or read. I try to make it to 9:30pm...


I love the blueberry protein cake with coconut cream!
This is a roasted kabocha snack with

protein flatbread

or

microwave cake

layered with vanilla protein powder and vanilla almond milk...so good! Yes, I am fully aware of the kabocha addiction. It's been 3 days since my last kabocha...I need to get to the Asian market soon!




9:30pm-10:00pm pass out!

This is just one day. Other days I develop recipes for clients and work with other clients for training and nutrition. I wish I didn't have to sleep...

Tell me, what is your day like. Any favorite fast treats or meals you want to share? I need ideas for quick throw together eats!

Happy Tuesday friends!



Labels: about me, breads, gluten free, main course, quick breads, vegetables
posted by Sarena Shasteen - The Non-Dairy Queen @ 5:00 AM

Monday, March 4, 2013
Miles and Donuts...
What a strange weekend. It was a good weekend, just weird. Probably because it just wasn't as planned. It was just me, the boys and the cats this weekend. I love hanging with my boys. They are so easy now, so it's like hanging with friends all weekend. Tony was at a convention in Seattle. I was supposed to be with him, but with circumstances not in our control, those plans were changed and we went our separate ways this time. I was supposed to meet this amazing lady, hang out with our close friends that moved to Portland a while back and get a tour of Bob's Red Mill! Ok, tantrum over...

I haven't talked about our half marathon training in awhile. After our 7 miler, things got a little on the crazy side here with Tony starting a new project and having to get ready for this trip. He also started suffering some pain from his IT band. That darn thing is temperamental (the band and sometimes Tony. ;) He have been working on massaging it, giving it a little rest and he's also getting a compression band (thanks Jolene for that info) for him to run with. So, he's been taking it easy and I've been running 3-4 miles at a time when I can fit it in. I've added a few more clients to the rotation and that seems to have thrown my schedule completely out of whack.

I had plans for an 8 mile run on Friday since I was going to have some free time, but that changed when I had a client want to change days last minute. No worries, after hearing my friend Heather had a half marathon on Sunday, I decided to sherpa run with her since I was running solo and the idea of running with a buddy always sounds better to me. My friend Heather knocked it out of the park! Congrats lady, I'm so proud of you! Me, I got in my 8 miles knowing that I was "running with a friend"! This was my first ever 8 mile run! I always get excited about running, but the number 8 seemed a little on the scary side for me this time. The run was planned on the treadmill. I know, some people dread that, however, I've come to be good friends with the treadmill. I also picked out a movie on Netflix, so I knew I would be entertained. I grabbed my water, pulled up my compression socks, laced up my trusty Mizunos and I was off. I was really happy with my time and the whole run felt great! No hip tightness at all! In fact, when I was done...I wanted more. I know, crazy. I NEVER thought I would be that girl! I'm trying to be smart with my training though. I am one that will keep going if I can and I know that the training plan is there for a reason and my body really needs the steady plan. I do not want to get injured! So, I was good. I enjoyed another 3/4 of a mile walk and I was of to stretch. I took care to do that well too! I stretched for a good 30 minutes. It actually felt great! I felt incredible the rest of the day too and continued to move to keep blood pumping. Today, I'm a seriously happy girl...I'm almost to double digits! Now I need my running buddy back and things will really start moving us towards that half marathon!

Since I was solo on Sunday morning and the boys were sleeping in, I decided to make them some donuts to wake up to. I'm sure there were more things for me to do, but I really just wanted that peaceful time in the kitchen. The boys were happy I chose to do that too! Max gave me the ultimate compliment by telling me these taste like the cake donuts that you dip in coffee at Dunkin' Donuts. That made me one happy girl.


I based the recipe on these
nutmeg muffins
. The donuts are soft and cakey on the inside while being crisp on the outside. They are the right amount of sweetness without added glaze (as stated by the boys) and they have a hint of nutmeg...YUM!




Baked Gluten Free/Dairy Free Cake Donuts
(makes 12 donuts)

1/2 cup sugar
1/4 cup NuNaturals Tagatose
1 dropper NuNaturals vanilla stevia or 2 TBSP sugar
1/2 cup Smart Balance Light

3/4 cup gluten free AP flour (I used Bob's Red Mill)
3/4 cup sweet rice flour (I used Bob's Red Mill)
1 1/2 tsp baking powder
1/2 tsp freshly grated nutmeg
1/2 tsp xanthan gum
1/16 tsp salt
2 eggs
3/4 cup unsweetened vanilla almond milk
1 TBSP apple cider vinegar

Preheat the oven to 350 degrees. Spray oil into donut pan.

In a mixing bowl, blend the sugar, tagatose, stevia and smart balance light until mixed well and fluffy. Combine the flours through salt together in a bowl. Add the egg to the butter mixture and mix well. Next add the dry ingredients and mix until just starting to blend. Now, slowly pour the milk into the sugar mixture, along with the apple cider vinegar and mix until completely combined. Evenly distribute the batter into the donut pan. Bake 15-20 minutes or until a toothpick inserted in the thickest part comes out clean. Allow to cool 5 minutes in pan and then remove.

I'm sharing these on Slightly Indulgent Tuesday and Allergy Free Wednesday.





Labels: about me, breads, breakfast, cakes, gluten free, main course, muffins, quick bread
posted by Sarena Shasteen - The Non-Dairy Queen @ 5:30 AM

Friday, February 22, 2013
Treat Yo Self! Without The Side Of Guilt!
Being a trainer and in the fitness industry, I read and hear a lot of the push push push talk. I am the first to admit, I push all the time. My clients, my kids, my husband and myself included. I have a pretty rigid plan for myself and I don't stray from it...ever. This makes me less forgiving on myself and really not good at spur of the moment types of things.





Over the past couple of years, I've been working on being a little more easy breezy when it comes to plans. I'm sure having babies didn't help me in the going with the flow mood, but now that they're older, I'm getting better with it and can't blame them for my rigid behavior. The other problem I had with letting things go was with food. When you have a restricted diet with allergies and intolerances, it makes you a lot less easy going when it comes to going out to eat. I have since overcome that by not being ashamed to bring some food with me when we go places. I typically order a salad and then bring some embellishments to make it a complete meal.



My
protein loaded flatbread
and some nutritional yeast make me a happy girl when I'm heading somewhere I know I will be limited to a side salad.
The other problem I have is budget. Yeah, I'm a stickler for keeping our costs down as much as possible. We work for ourselves and, truth be told, it could be feast or famine (good thing we all like beans here). I like to eat, I like having a roof over my head and I like providing for my kids. So, I'm always asking how much everything is before we do anything.
This all has a point...I'm getting there, I promise.
So, a couple of weeks ago, I was working on a Saturday morning. We have one car and Tony came to pick me up at 1:00. He asked if I minded if we went to the store for a few things. I love the grocery store, so yeah, we can go, but what did we need? He said he wanted to treat us all to banana splits during our movie that night! We were all so down after his uncle had passed away. Everything seemed gloomy. Life was just not fun at all. I told him the kids would love that! We hadn't had them in years, so it sounded like a fun change. We walked into the store, started getting everything and then we walked over to the ice cream section. Immediately, Tony walked over to get me some too. I saw the price and my heart sunk. I told him I would come up with something else to have when everyone was doing the ice cream thing. It was just too expensive for the dairy free ice creams. I told him not to worry, I would do some sort of banana treat for myself too (since we can't always eat the same thing, the guys all seem to love it when we can eat the same). He told me he really wanted to do this for all of us. He opened up the freezer and grabbed me some
SoDelicious Coconut Vanilla Ice Cream
. I just felt guilty. I didn't want to spend the money. He looked at me and said everyone needs a treat sometimes. Gosh, was he ever right. I never let myself just give in and enjoy something totally ridiculous. I realize it was just ice cream, but for some reason, the act of what we were doing felt incredibly freeing and fun. A feeling we all needed badly! We got everything we needed for our banana splits and walked out. On the way out of the store, I asked if they had eaten lunch. It turned out that none of us had eaten lunch yet. I then looked at him and asked why don't we have banana splits for lunch? I figured if we were going to have some fun, why not go all out? He agreed and when we called the kids down for lunch, they were shocked and excited to have banana splits for lunch! We had a blast that afternoon by simply letting go and acting like kids. Tony called it "Treat Yo Self Day". Everybody really could use that kind of day sometimes.
I think we are due for another "Treat Yo Self" kind of day! Do you ever do that? Treat yourself to something that you normally wouldn't? If you have, what was it? For me, this was not about the food, but more the act of doing something out of the ordinary. Kind of like when we got the boat. Sadly, it's too cold for the boat, so banana splits were definitely a nice alternative to the salad lunch I had planned. ;) I highly recommend dessert for lunch! Acting like a kid in a candy store really does feel good! Happy Friday all!
Labels: about me, gluten free, ice cream/pudding, main course, product reviews
posted by Sarena Shasteen - The Non-Dairy Queen @ 5:30 AM

Monday, February 18, 2013
Tagatose Sweetened Gluten and Dairy Free Banana Muffins!
The boys had a long weekend with an unused built in snow day on Friday and Presidents Day today. So, we headed to Tennessee to visit Tony's parents. The funny part about the weather is that we were supposed to have flurries on Saturday at home, but didn't, however it snowed for about 15 minutes in Tennessee, so the boys saw snow anyway (during their "snow day" long weekend). Sadly, there wasn't a significant amount, but it was beautiful. This was the sky right after the snow passed...



It looked beautiful, especially since I was inside by the warm fire and not in the freezing weather.

There is no way to lead into this one, so I'm just going to go right to it...I want to talk for a minute about a new sweetener I tried recently from NuNaturals.

Tagatose...

From NuNaturals:

"PreSweet Tagatose is safe for diabetics because it will not raise blood sugar levels. It is also being studied for other health benefits.

One of the health benefits of PreSweet is that it is a prebiotic ingredient. Prebiotics feed probotic bacteria like acidopholis found in yogurt. Prebiotics help the good bacteria in the digestive system multiply. This improves the overall health of the digestive system and may improve the general health of the body.

PreSweet Tagatose is a naturally-occurring sweetener found in milk, fruits and vegetables. It is 92% as sweet as sugar. PreSweet is a low calorie (6 calories/serving), low GI (3 on the glycemic index), and low in carbohydrates (especially considering that many of the carbohydrates are not digested).
PreSweet is anti-hyperglycemic and great for those on weight loss programs because it will satsify your sweet tooth without adding the calories that sugar will.

Unlike sugar alcohols like Xylitol and Erythritol, PreSweet Tagatose browns like sugar.
While Xylitol has a unique cooling taste and Erythritol has a distinctive taste, Tagatose as a very clean, neutral taste like sugar."

I was excited to bake with this one! I'm a huge fan of prebiotics and I love finding great sweeteners that offer health benefits! When I'm trying something new with sweeteners, I normally go with something that we all love and are familiar with flavor wise. I chose banana muffins since we had bananas that needed to be used for baking. Otherwise, I would have made cinnamon bread...that one's next!



I made these on a Monday morning after training a client at 5am. I measured my flours the night before to make things a little easier. When I got home, I mixed everything together, popped them in the oven and we had freshly baked muffins for our crazy Monday morning! Now that's how you start the week off!



Gluten and Dairy Free Banana Muffins
(makes 12)

3/4 cup almond milk
1/2 tsp cider vinegar
1/2 cup brown rice flour (I used Bob's Red Mill)
1/2 cup amaranth flour ( I used Bob's Red Mill)
1/2 cup gluten free all purpose flour (I used Bob's Red Mill)
1/3 cup turbinado sugar
1/3 cup tagatose
1 tsp baking powder
1/2 tsp baking soda
1/4 tsp salt
1/2 tsp cinnamon
1/4 tsp nutmeg, freshly grated
1/16 tsp cardamom
1/2 tsp xanthan gum
1/2 cup egg whites
1 1/2 cup mashed banana
1 dropper vanilla stevia (or an extra 1/4 cup sugar)
1 TBSP + 1/2 tsp turbinado sugar for topping

Combine the almond milk and cider vinegar in a measuring cup; set aside (I did this the night before).

Preheat the oven to 350 degrees. Spray 12 cup muffin pan with nonstick spray.

In a bowl, combine the flours through xanthan gum. Mix well. Next add the egg whites, banana, stevia and milk mixture to the flour mixture. Stir with a whisk to make sure everything is fully combined. Divide the batter evenly between the muffin cups. Sprinkle each muffin with the remaining turbinado sugar. Bake 20 to 25 minutes or until a toothpick inserted in the center comes out clean.

We all loved these! I always mix my low/no calorie sweeteners with sugar to ensure there is no aftertaste. These banana muffins turned out perfectly! They had an extremely clean flavor with no aftertaste at all. The boys devoured them without hesitation! They are my true test since I know there is a different sweetener in my baked goods and they will tell me if they detect something if I change it. I could not get them to stop eating them! That's a good sign and they're already asking for more!

I've made a microwave cake with tagatose too and I will share that one soon! Think spicy, sweet, moist and chewy...YUM!

For now, I've finished training a couple of clients already, the kids are out of school today, so I'm going to enjoy some coffee and blog reading! I hope you all have a great Monday!

I'm sharing these on this week's Slightly Indulgent Tuesday and Allergy Free Wednesday.

Labels: breads, breakfast, gluten free, muffins, product reviews, quick bread
posted by Sarena Shasteen - The Non-Dairy Queen @ 6:00 AM

Friday, February 15, 2013
Roasted Kabocha Squash Topped With Coconut Peanut Butter Cream
Confession time, I am truly addicted to kabocha squash. Seriously, people, this is going to be a problem! I know I mentioned on here a long time ago that I used to have an addiction to pumpkin. Since some of you are newer readers since that time, I will tell you...it was bad. So bad, in fact, that I got sick with an upper respiratory infection, ended up at the doctor's office and they thought I was jaundice. I also ended up dehydrated from a horrible colonoscopy incident that put me in the emergency room. They thought the same thing. Yeah, not jaundice at all...just a nice winter glow from all the beta carotene I was ingesting.

I decided at that point that it was time to give it a break. I now only buy whole pumpkins during the fall, roast them and then freeze bags of them to take out occasionally. That way pumpkin oatmeal, pumpkin rice pudding, pumpkin pancakes, pumpkin chia pudding and pumpkin muffins were treats (see, I get carried away)! I've been so good!

For years, I've watched bloggers talk about kabocha squash. I love buttercup, which is very similar except the skin is not so good to eat. I've been eating it here and there...nothing overboard. I've been such a good girl! Then, after all these years of looking...


I FOUND KABOCHA! Yep, there is now a problem! Sunday, I ate an entire one in one day. No, I'm not proud (eh, I kinda am), but here me out. When roasted at 400 degrees for about 30 minutes, these babies are buttery smooth on the inside, slightly sweet, crispy on the outside from the skin and really just all around heavenly. You can not blame me!
So, the day I got these, I knew right away that I had to get one in the oven because this was gonna be my dinner. Forget side dish, this was gonna be the showcase of my meal. I haven't played in the kitchen in what seems like forever. I miss making my fun foods with crazy toppings. As soon as I tasted one piece from the oven, I knew exactly what I wanted to do and I knew it would be perfect for
Sprint 2 The Table's Strange But Good
post!
I don't normally do sweet salads. However, I shocked myself with a strange craving for a sweet salad. I LOVE romaine lettuce since it's so crispy and neutral in flavor. This mixture was a nice mix of textures and flavors that perfectly complemented each other. Let's talk topping, shall we? The first thing that came to mind was my
coconut cream
. I'm really into peanut butter and coconut together lately and that's exactly where I headed with this one.This topping was creamy, sweet, rich and luscious (think similar to a sweetened cottage cheese)! Absolutely perfect for this sweet salad!
Coconut Peanut Butter Cream
1 TBSP Peanut Flour
1 TBSP Coconut Flour
2-5 TBSP Coconut Milk or water (go with the lower amount and add as you need)
Mix everything together and enjoy!
I felt like my old self back in the kitchen with my strange concoctions! Now, I need to stop eating all the squash before I can make more recipes with it!
Labels: breakfast, dips, gluten free, main course, muffins, quick bread, vegetables
posted by Sarena Shasteen - The Non-Dairy Queen @ 6:59 AM

Monday, February 11, 2013
Finding My Happy Place...
It's Monday! I am hitting this week full speed! I had a client at 5am and then a full schedule of cooking and nutrition clients to work for. BUSY day, but I'm excited to have so much going on. Keeps me from thinking too much, ya know? Also, Jolene and Jessica, I saw a bunny this morning on my way back from the gym! That's a good sign, right?

Before I get too far into this post, I want to first thank all of you for your kind words and thoughtful messages. I will admit, we were all in a pretty dark funk. Everyday is a new day and we are all working towards finding closure. It really meant so much to me to read everyone's perspective on handling death. Lisa said something that completely hit me in the right way and I'm going to do exactly what she said.

She started by quoting me and then led into this...
"You said, "The man was like another father to Tony and a grandfather to me. He was the kind of person that brightened your day the second you set eyes on him. He had the most amazing smile that rubbed off on me every time I saw his face."

I think one way to keep him alive in your hearts is to aspire to be like him. Maybe it's that whole thing---people won't remember the things you did, but they will remember the way you made them feel."

Those words have seriously walked with me since you wrote them Lisa.

Ok, since we're moving forward these days, I will get right to the chase...I'm addicted to instagram (I'm stshasteen). Seriously, I'm all over taking quick shots of my boys...


First box of Cracker Jacks ever...this is Max's happy face.



This is Jay's awkward teen face.




my cats...


Tippy trying to get Max's chicken. Yes, every meal here includes
Franks
!
Luke right after eating my hair. Does anyone else's cats do that? He sits on the top of the couch and gets my hair. Leia stayed in her happy place on top of the cat palace this weekend so I spared all from that. You're welcome!
the food...
Gluten free Banana Muffins! Recipe coming soon. I used a new
NuNaturals
sweetener.
Monster omelets! Bacon, potato, cheese and broccoli for the boys!
Scrambled egg whites with steamed broccoli seasoned with garlic and onion powder. This was not my usual bowl of oats and it was weird for me to crave this, but I gave in to my cravings and it totally hit the spot!
My first kabocha squashes!!!
Yeah, it took me all of 5 minutes to get these things in the oven when I got home from the Asian market! I'm totally in love! So much so that I ate an entire one all by myself yesterday. I would ask you not to judge, but yeah, I'm judging myself for that. Sweet, creamy, crunchy...really, it has everything. Oh and the topping, I'm sharing that on Friday! Gotta wait for
Laura's
Strange, But Good!
These slightly sweetened rice treats from the Asian market are highly addictive! The bag is about 3 feet tall and full of deliciousness!



And this salad, this salad is my all time favorite mix of flavors! Crisp Romaine lettuce, green beans, roasted baby bella mushrooms, quinoa, crisp fresh red peppers, an over easy egg for extra protein and the best dressing ever (the yolk).


I guess all of this is to say that we are finding joys in the little things these days. Being in the kitchen again definitely helps me. It's my meditation...my happy place. I'm going to spend more time there and focus on getting myself back on track mentally. I have a tendency to shut down when things get rough. I look at the big picture instead of taking everyday one day at a time and appreciating the small things that give me joy. I'm working on it, but it's a tough one for me.

Do you have a happy place?

Labels: gluten free, main course, muffins, quick bread, vegetables
posted by Sarena Shasteen - The Non-Dairy Queen @ 6:27 AM

Name:
Sarena Shasteen - The Non-Dairy Queen
Home: Atlanta, GA, United States
About Me: Lactose Challenged
See my complete profile
Previous Post
Archives
Links
Blogs I Like