How in the world did Wednesday get here already? Well, there's no use fighting it...so, I figured I would join the party...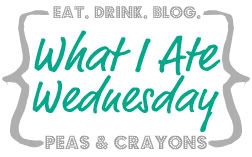 Breakfast:
Banana pancakes (recipe coming soon) with chocolate chips and a little real maple syrup...perfection!
Lunch:
I had an incredible grilled portabello mushroom salad smothered in tomato sauce and nutritional yeast!
I decided to wrap up the last part of it in a whole wheat tortilla for on the go!
Snack:
This Tazo Iced Chai Tea is incredible. The spice and heat from the chai spices is balanced well by the slight sweetness from stevia. It's a perfectly refreshing beverage for the hot summer days here!
More snack:
Apples, well I eat them every day. I know they're not in season, but I have to have one everyday. You know...an apple a day...
Dinner:

Vegetable Pasta Primavera!

(another super fast and easy recipe coming soon)




Dessert:

Sorry no picture for this one, but I had an incredible Kuhlua mixed with

Silk Unsweetened Pure Almond Milk

! This sucker tasted like a milkshake without the cold headache! Perfect ending to the day! Even if you can have dairy, try the almond milk. It's lower in calories and extremely creamy!




I am seriously loving the fresh produce from my father-in-law's garden. I will try to get a picture of it soon and post it. You wouldn't believe how small the garden is compared to how much fresh produce is coming from it. I am in vegetable heaven!


Have you eaten anything special lately?

Labels: breads, breakfast, gluten free, main course, quick breads